Bangkok, the vibrant capital of Thailand, is a city of contrasts and if you're visiting for only a day or two, it's essential to map out the best Bangkok itinerary to make the most of your time there. From its ancient temples and palaces that transport you to its history-rich past to its bustling markets and modern skyscrapers, Bangkok offers a unique blend of cultural and urban vibrancy. To truly experience all that Bangkok has to offer, a comprehensive itinerary should include seeing the city's iconic landmarks, trying its diverse and delicious street food, and exploring its bustling markets and nightlife.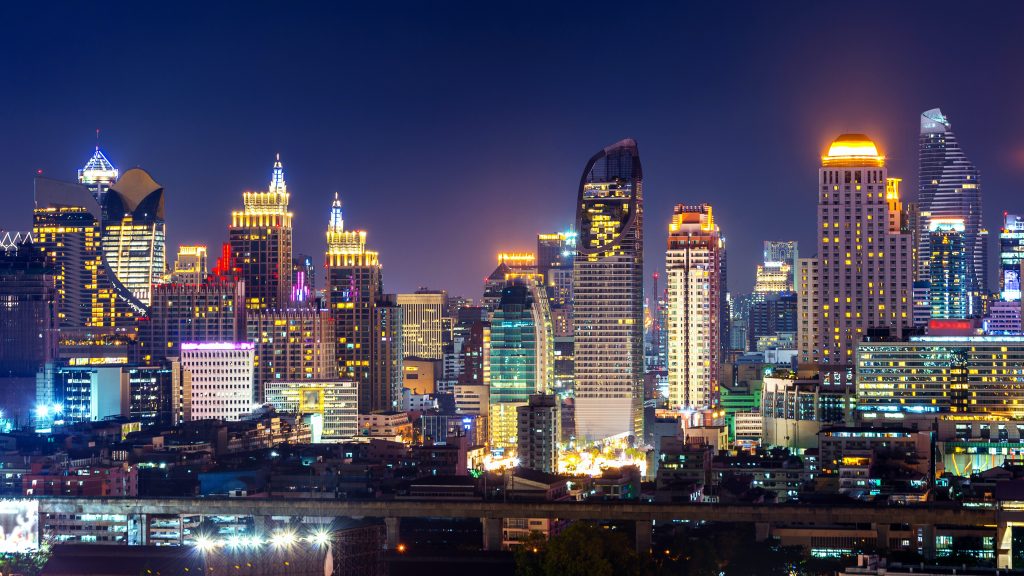 How to see the most of Bangkok in 1 or 2 days
A two-day best Bangkok itinerary will give you the opportunity to get an introduction to the city, seeing and learning about the main sites and districts that give Bangkok its unique character. Your journey should begin with a visit to its ancient palaces, such as the Grand Palace and Wat Pho, followed by a stop at a local street market like the Chatuchak Weekend Market. Then experience the sacred and spiritual energy at the Temple of the Emerald Buddha and Wat Saket, marvel at the golden domes of Wat Traimit, full of intricate Buddha sculptures, and wander through Chinatown and the lively Yaowarat neighborhood. Before you leave, take a boat cruise along Bangkok's river, the Chao Phraya, to admire the Thai-style buildings along the way. From iconic landmarks to bustling markets and buzzing nightlife, a two-day itinerary in Bangkok is sure to give you a glimpse into the city's rich history and culture while still leaving you wanting more.
If you are staying in Thailand for at least two weeks, you should check this 14-day best Thailand itinerary.
Best Bangkok Itinerary 1 Day:
Morning:
The Grand Palace and Wat Phra Kaew (Temple of the Emerald Buddha): Start your day early by visiting the Grand Palace, the former residence of the Thai monarchy. Within its walls, you'll find Wat Phra Kaew, which houses the revered Emerald Buddha. The intricate architecture and rich history make this a must-visit. Remember to dress modestly, covering your shoulders and knees.
Wat Pho (Temple of the Reclining Buddha): A short walk from the Grand Palace, Wat Pho is home to a massive 46-meter-long reclining Buddha statue. It's also a great place to experience a traditional Thai massage, as the temple is considered the birthplace of Thai massage.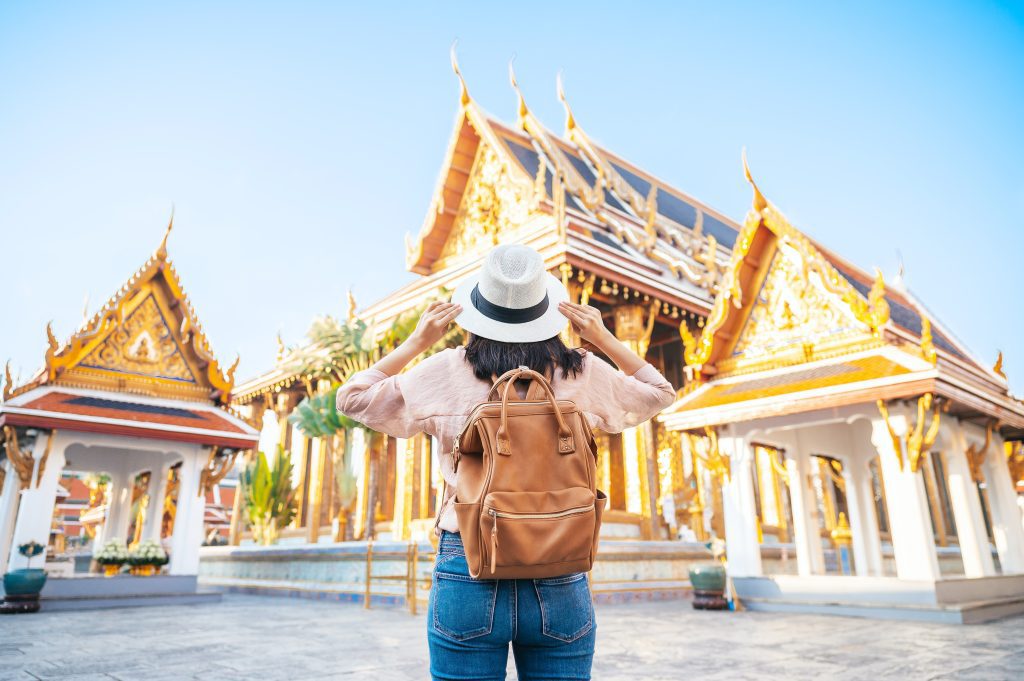 Afternoon:
Chao Phraya River Cruise and Wat Arun: Take a boat ride on the Chao Phraya River and enjoy the city's skyline. Disembark at Wat Arun, also known as the Temple of Dawn. Its Khmer-style tower offers a panoramic view of the city, especially during sunset.
Lunch at Tha Tien Pier: Near Wat Pho, Tha Tien Pier offers a variety of local eateries. Indulge in some Pad Thai, Mango Sticky Rice, or a refreshing coconut ice cream.
Khao San Road: Known as the backpacker's haven, Khao San Road is a lively street filled with bars, shops, street food, and more. It's a great place to pick up souvenirs or simply soak in the atmosphere.
Evening:
Dinner at Chinatown (Yaowarat Road): Bangkok's Chinatown is a culinary paradise. From street food stalls to upscale restaurants, there's something for every palate. Don't miss out on trying some bird's nest soup or Peking duck.
Rooftop Bar Experience: End your day of the best Bangkok tinerary by heading to one of Bangkok's famous rooftop bars, like Sky Bar at Lebua. The views of the city lights combined with a refreshing cocktail make for a perfect end to your day. We've been there several times, we even booked a room in Lebua and it's truly magnificent experience.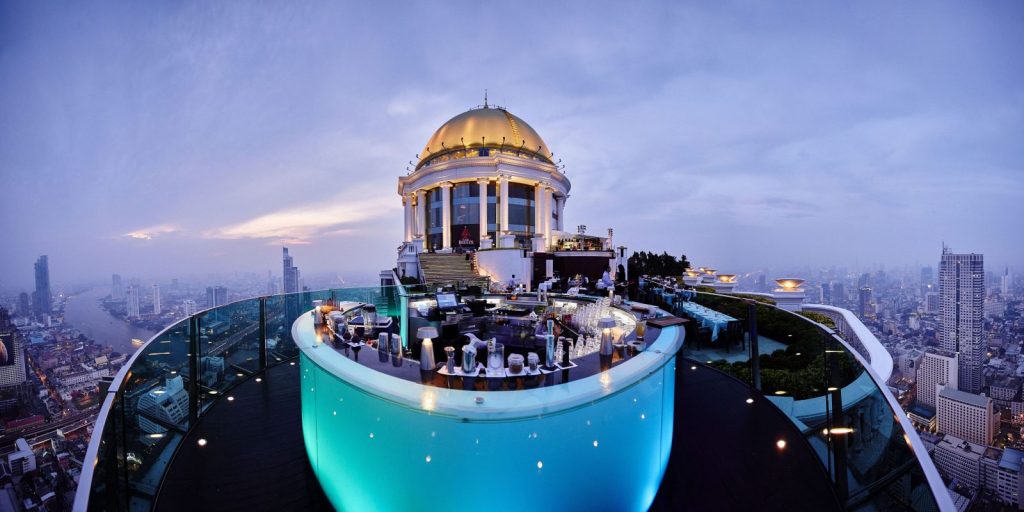 Best Bangkok 2-Day Itinerary:
Day 1: Follow the 1-day itinerary mentioned above.
Day 2:
Morning:
Chatuchak Weekend Market: If it's a weekend, start your second day of the best Bangkok itinerary at the Chatuchak Weekend Market. With over 8,000 stalls, it's one of the world's largest markets. From antiques and clothing to pets and plants, there's something for everyone.
Jim Thompson House: Visit the former residence of the American silk entrepreneur, Jim Thompson. The traditional Thai house offers insights into Thompson's life and the Thai silk industry.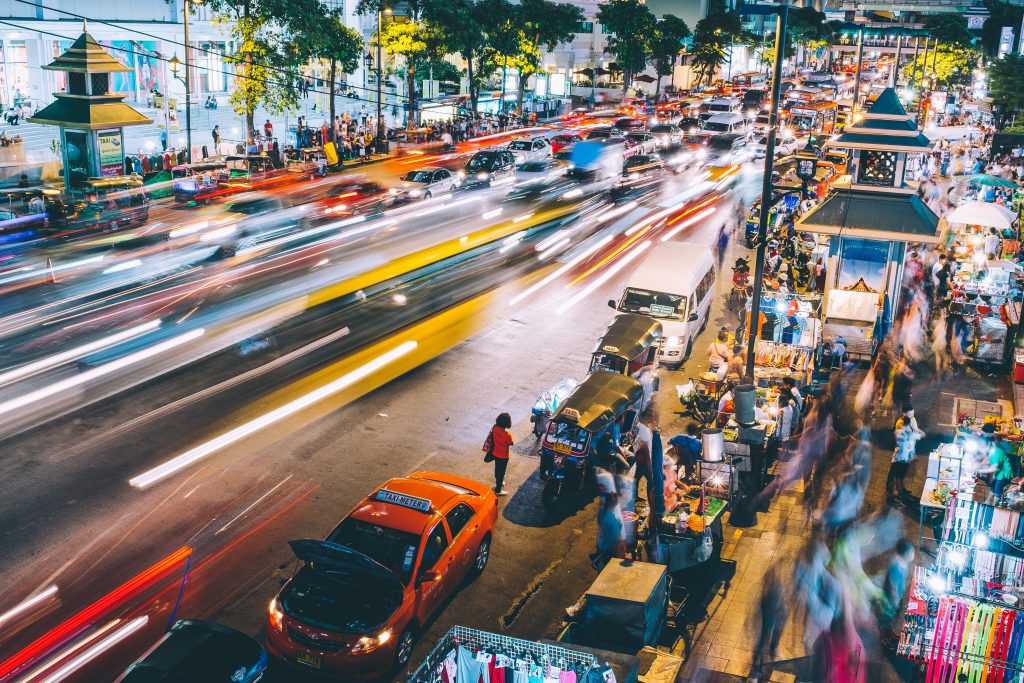 Afternoon:
Lunch at MBK Center: Head to the MBK Center, one of Bangkok's most famous shopping malls. Apart from shopping, the food court offers a variety of Thai and international cuisines.
Erawan Shrine and Shopping at Ratchaprasong: Visit the Erawan Shrine, a Hindu shrine that attracts thousands of visitors daily. Afterward, indulge in some retail therapy at the nearby luxury malls like CentralWorld and Gaysorn Village.
Lumphini Park: Take a break from the city's hustle and bustle by visiting Lumphini Park. You can rent a paddle boat, take a leisurely walk, or simply relax by the lake.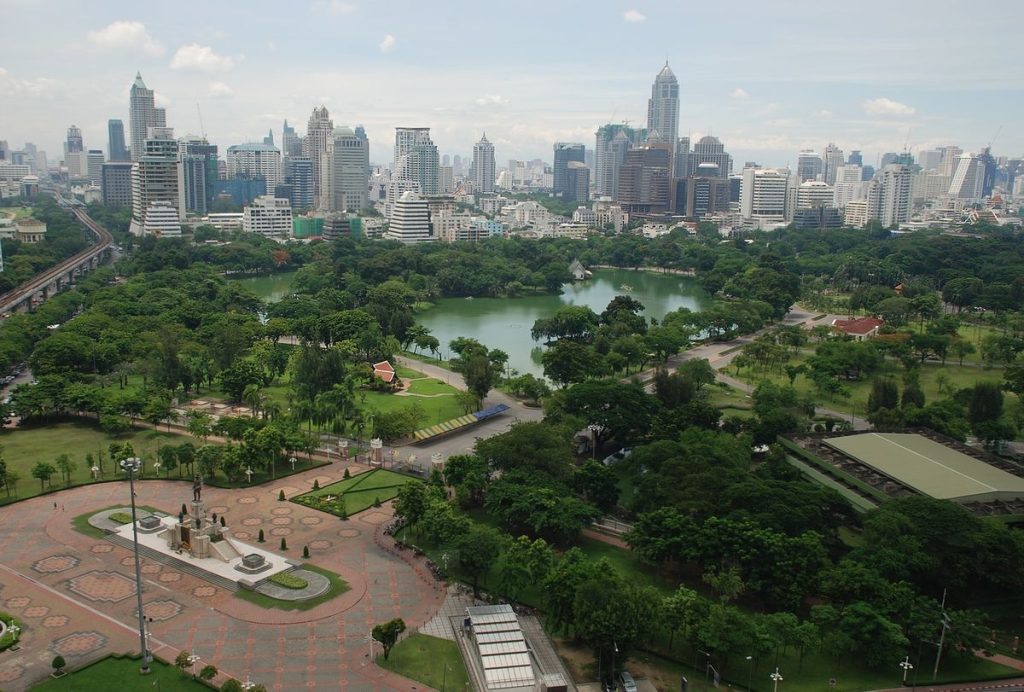 Evening:
Asiatique The Riverfront: This open-air mall combines shopping, dining, and entertainment. With its riverside location, it's a great place to enjoy dinner with a view. Don't miss the Calypso Cabaret show or the giant Ferris wheel.
Nightlife at Sukhumvit Road: Experience Bangkok's nightlife by heading to Sukhumvit Road. From trendy bars and nightclubs to street food stalls, it's a lively area to explore and end your best Bangkok itinerary in a stlye.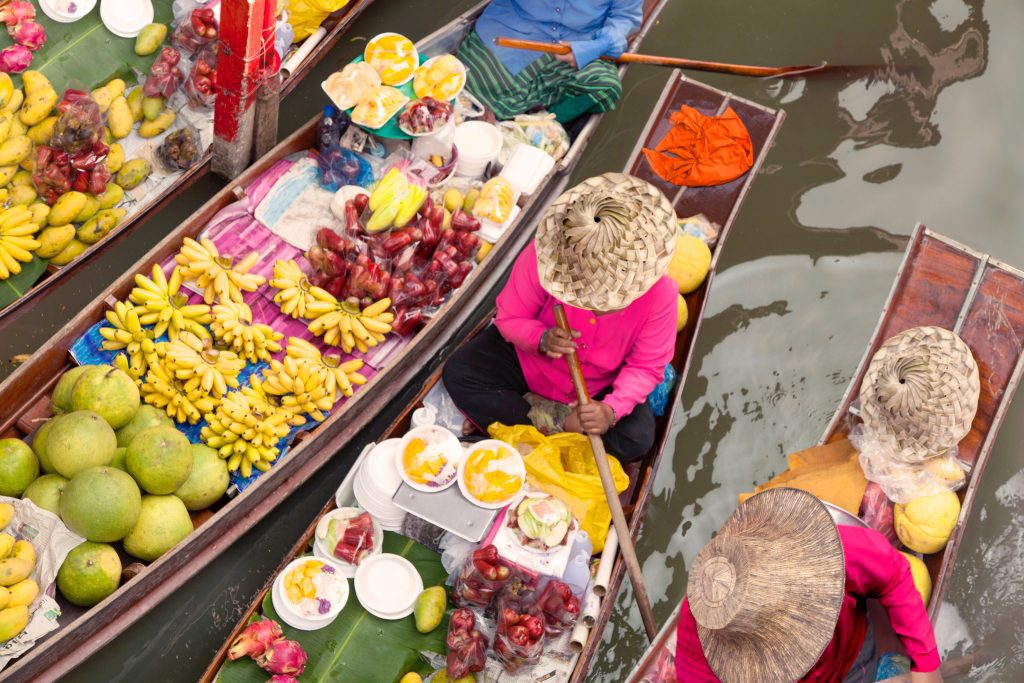 Most Popular Places to Visit in Bangkok
The Grand Palace: The former royal residence and a stunning architectural masterpiece.
Wat Pho: Home to the famous Reclining Buddha and birthplace of Thai massage.
Wat Arun: Known as the Temple of Dawn, it offers panoramic views of the city.
Khao San Road: The backpacker's haven filled with bars, shops, and street food.
Chinatown (Yaowarat): A bustling area known for its street food and vibrant markets.
Lumphini Park: Bangkok's green lung, perfect for relaxation and boat rides.
Erawan Shrine: A famous Hindu shrine that attracts thousands of visitors daily.
MBK Center: A shopping mecca with thousands of stalls and shops.
Asiatique The Riverfront: A riverside shopping and dining complex.
Siam Paragon: A luxury shopping mall with an aquarium and multiplex.
Golden Buddha (Wat Traimit): Home to the world's largest solid gold statue.
Bangkok National Museum: Showcasing Thai art and history.
Dusit Zoo: A family-friendly attraction with various animal species.
Bangkok Art and Culture Center: A hub for contemporary arts and exhibitions.
Rattanakosin Exhibition Hall: Learn about Bangkok's history and culture.
Sea Life Bangkok: An underground aquarium with diverse marine species.
Bangkok Floating Market: Experience traditional Thai market on water.
Bangkok Railway Market: Watch as vendors fold their stalls with every passing train.
Terminal 21: A shopping mall themed around world-famous cities.
Rajadamnern Stadium: Witness the excitement of a live Muay Thai match.
Conclusion:
Whether you're in Bangkok for one day or two, this best Bangkok itinerary ensures you experience the city's highlights. From historical sites and shopping hubs to culinary delights and nightlife, Bangkok promises an unforgettable experience. Remember to wear comfortable shoes, stay hydrated, and most importantly, enjoy every moment in this mesmerizing city!
---