One of the most frequently asked questions about holidays in Phuket is: 'What are the best day trips from Phuket? Nestled in the heart of the tranquil Andaman Sea, Phuket stands as a majestic testament to Thailand's incredible ability to offer a harmonious blend of natural beauty, unique and diverse culture, and modern amenities. While the island itself is a home of many attractions, including stunning white-sand beaches, exciting entertainment venues, and captivating historical landmarks, the treasures and exciting experiences lying just beyond its gorgeous shores often go unnoticed.
From exquisite marine life, secluded island hideaways, and magnificent national parks to the unforgettable sights and taste of traditional Thai cuisine, the delightful destinations surrounding Phuket are sure to leave lasting memories for any adventurous visitor.
10 Day Trips from Phuket
Venturing out on day trips from Phuket unveils a world of pristine islands, historical landmarks, and unparalleled adventures. Whether you're a seasoned traveler or a first-time visitor, the regions surrounding Phuket promise experiences that will etch memories for a lifetime.
1. Phi Phi Islands
The Phi Phi Islands, a group of islands that lie between the large island of Phuket and the Straits of Malacca coast of Thailand, are a must-visit. Known for their stunning beauty, these islands offer a mix of vibrant marine life, turquoise waters, and dramatic cliffs. Maya Bay, made famous by the movie "The Beach," is one of the most iconic spots here. While the islands are perfect for relaxation, they also offer numerous activities such as diving, snorkeling, and island hopping. This place is always at the top of every 'day trips from Phuket' list.
2. Similan Islands
Located off the coast of Phang Nga Province, the Similan Islands are a diver's paradise. Comprising 11 granite islands, they are home to some of the world's most diverse marine life. The crystal-clear waters provide visibility up to 30 meters, making it perfect for underwater photography. Above the water, the islands are dotted with white sandy beaches and tropical jungles, offering a perfect blend of relaxation and adventure.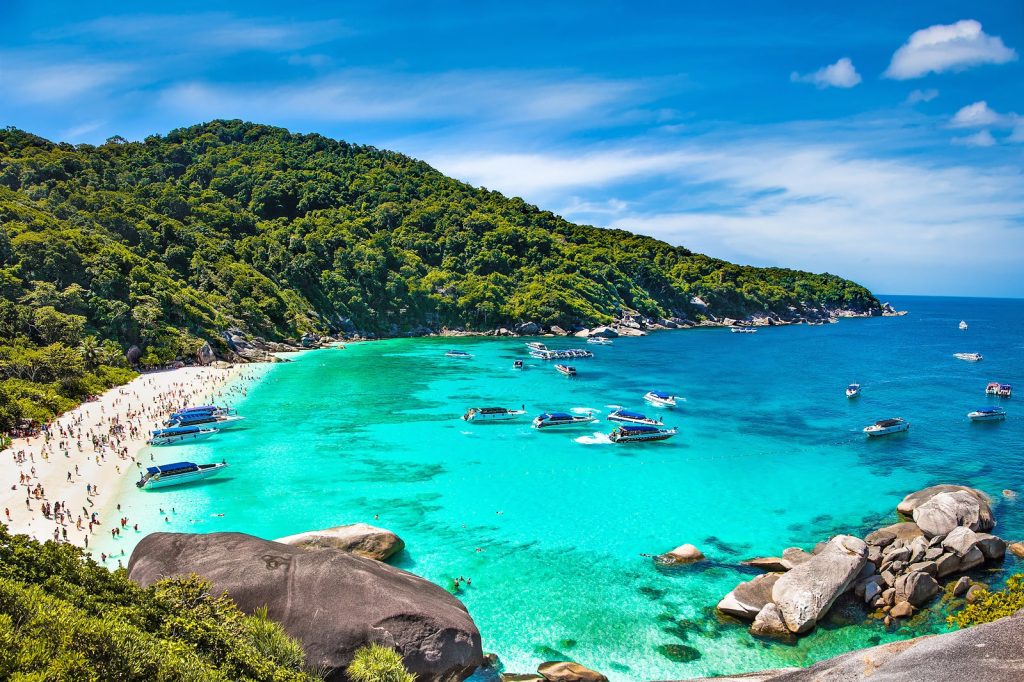 Phang Nga is not just a province; it's a world of awe-inspiring landscapes. The bay, with its limestone karsts jutting out of emerald-green waters, is a sight to behold. Kayaking through the caves and lagoons gives visitors a close-up view of this natural wonder. The province is also home to several national parks, waterfalls, and hot springs and it's a perfect choice for Phuket day trips.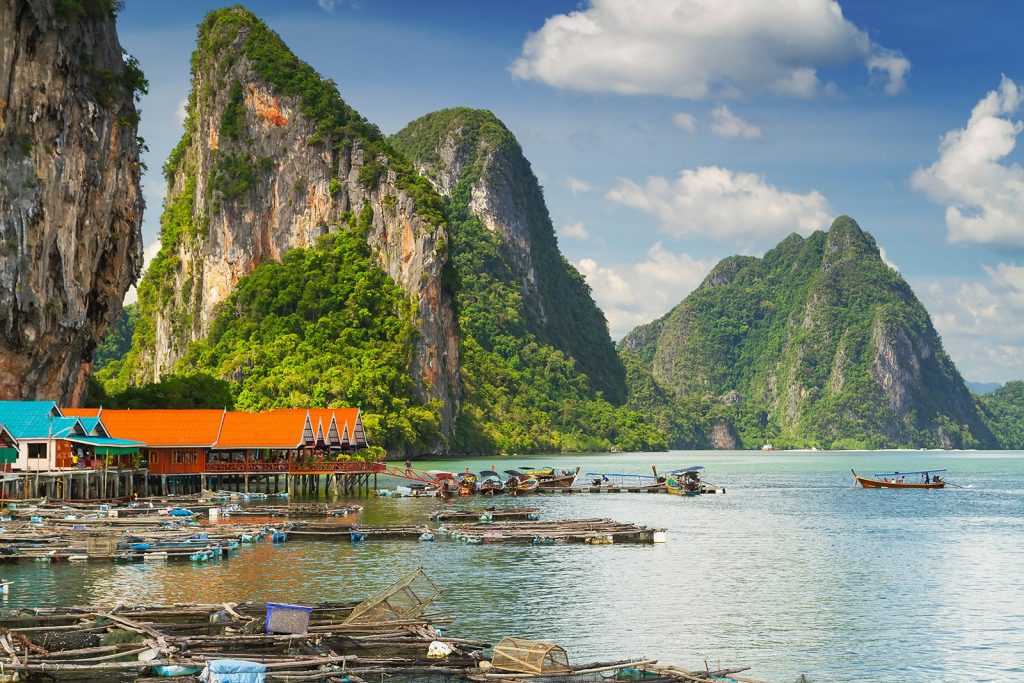 4. James Bond Island
Officially known as Ko Tapu, James Bond Island became famous through the James Bond movie "The Man with the Golden Gun." This limestone rock, standing tall in the middle of Phang Nga Bay, is a favorite among tourists. Boat tours often include a visit to this iconic spot, allowing visitors to capture its beauty from all angles.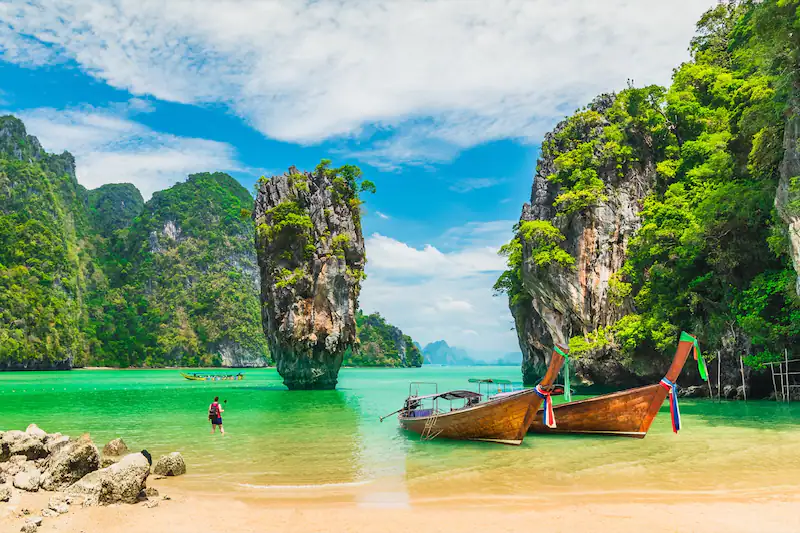 Elephants hold a special place in Thai culture and history. The Elephant Sanctuary in Phuket offers a humane and ethical way to interact with these majestic creatures. Visitors can feed, bathe, and walk with the elephants, all while learning about their history and the importance of conservation.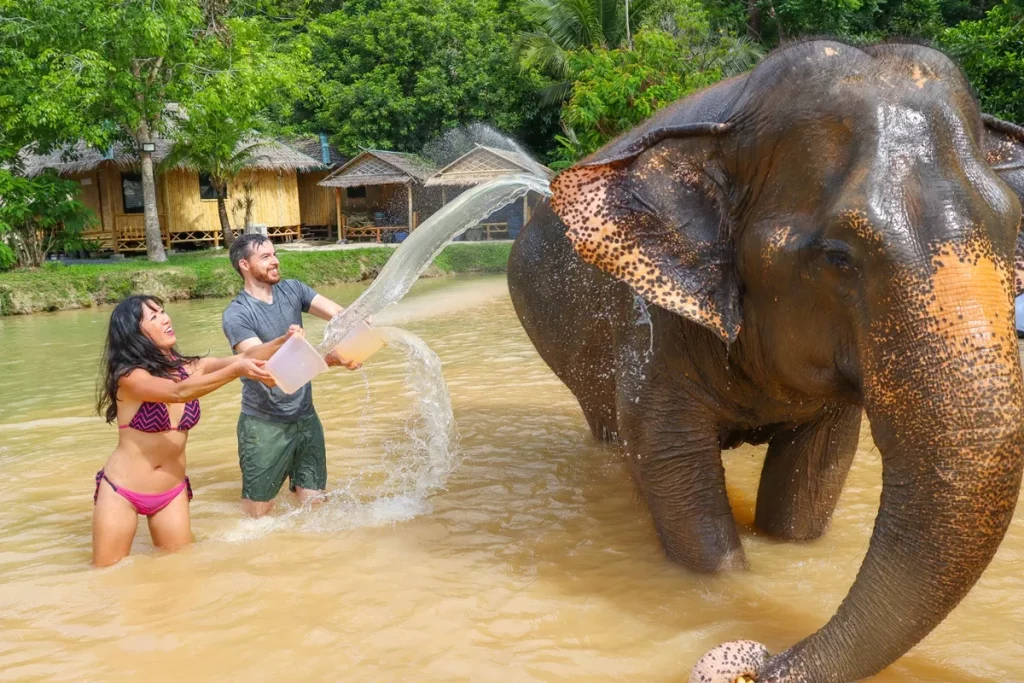 One of the oldest rainforests in the world, Khao Sok National Park is a haven for nature lovers. With its dense jungles, limestone cliffs, and the stunning Cheow Lan Lake, the park offers a range of activities. Whether it's trekking, canoeing, or simply relaxing by the lake, Khao Sok promises a rejuvenating experience.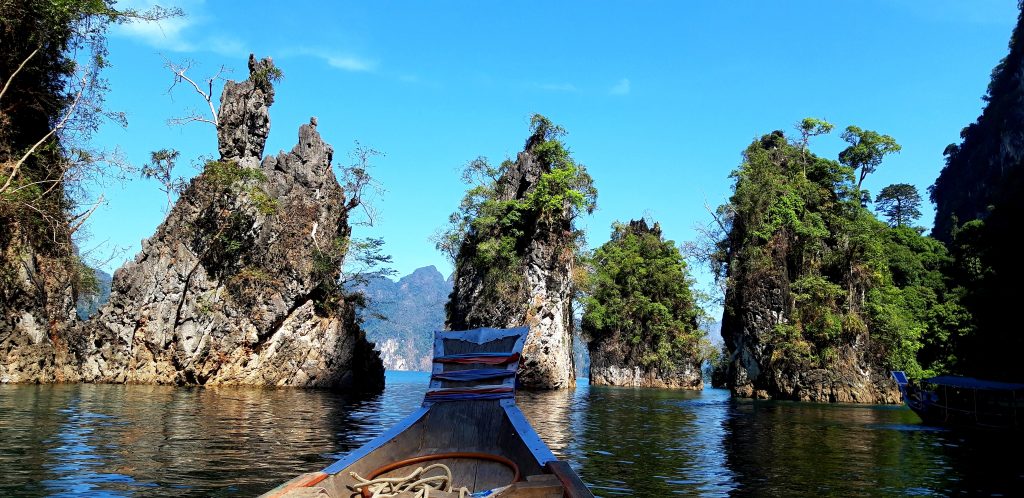 7. Sea Kayaking in the Andaman Sea
The Andaman Sea, with its hidden lagoons, caves, and mangroves, is best explored by kayak. Guided tours take visitors through these natural wonders, offering a chance to witness the region's biodiversity. The silence of the sea, broken only by the rhythmic paddling, adds to the charm of this activity.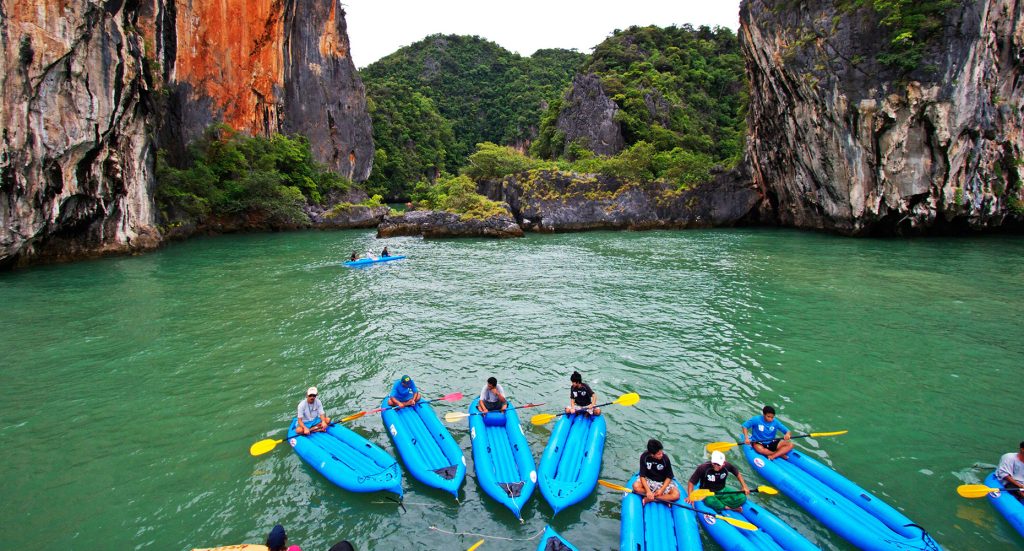 8. Big Buddha
Perched atop Nakkerd Hill, the Big Buddha statue is one of Phuket's most revered landmarks. Standing at 45 meters, this statue can be seen from various parts of the island. The site also offers panoramic views of Phuket, making it a favorite spot for both meditation and photography.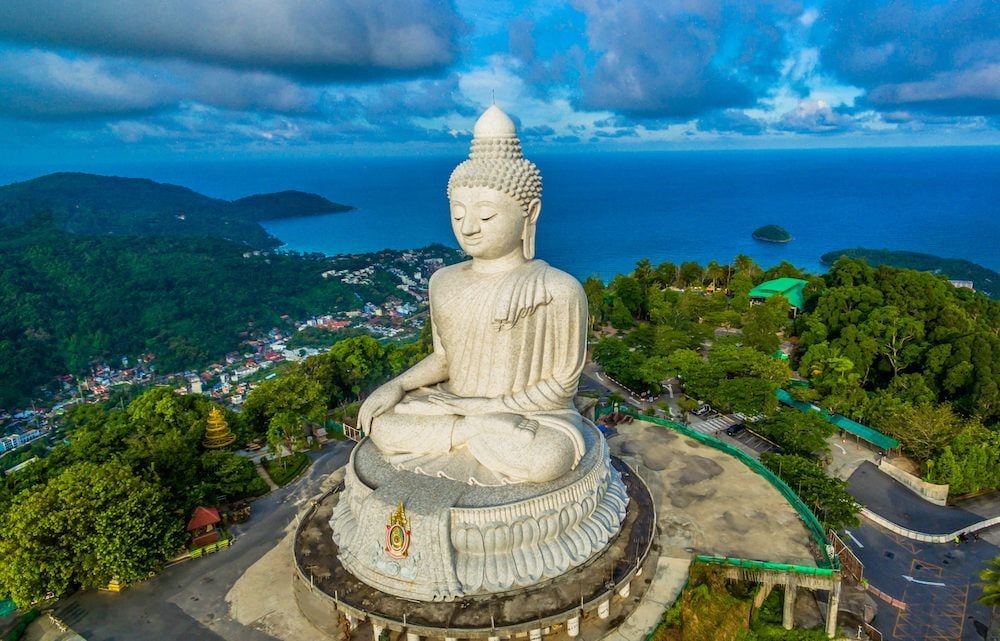 9. Coral Island
Also known as Koh Hae, Coral Island is a short boat ride away from Phuket. The island is popular for water sports such as snorkeling, parasailing, and banana boat rides. The clear waters and vibrant marine life make it a favorite among families and adventure enthusiasts alike.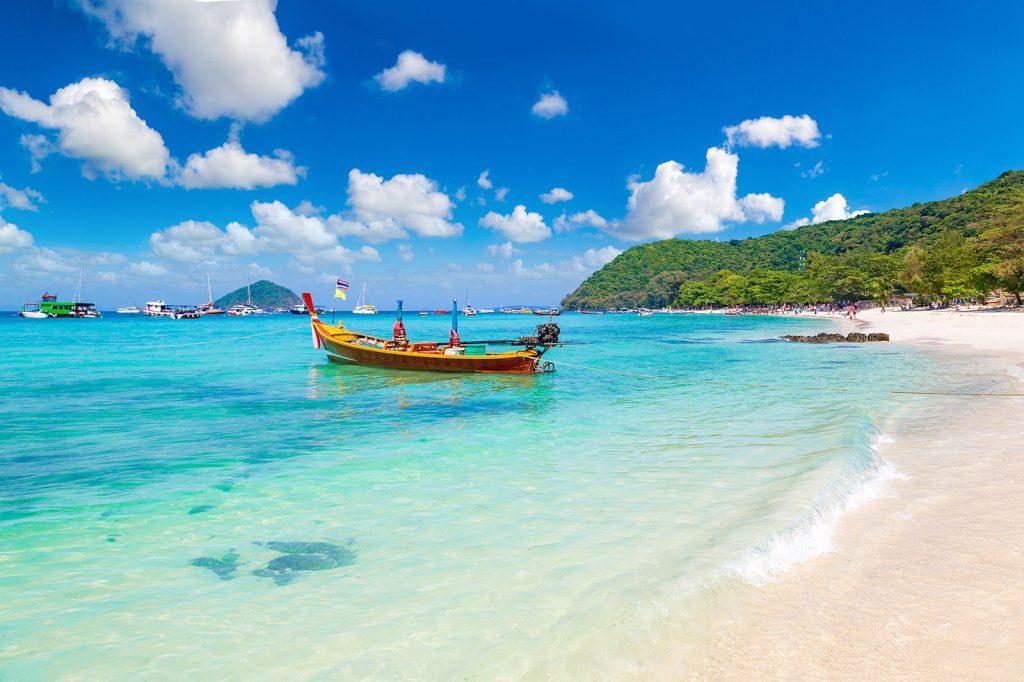 10. Racha Islands
Located to the south of Phuket, the Racha Islands, comprising Racha Yai and Racha Noi, are known for their crystal-clear waters and coral reefs. They are perfect for diving, snorkeling, and fishing. The islands also offer pristine white sandy beaches, ideal for relaxation and sunbathing.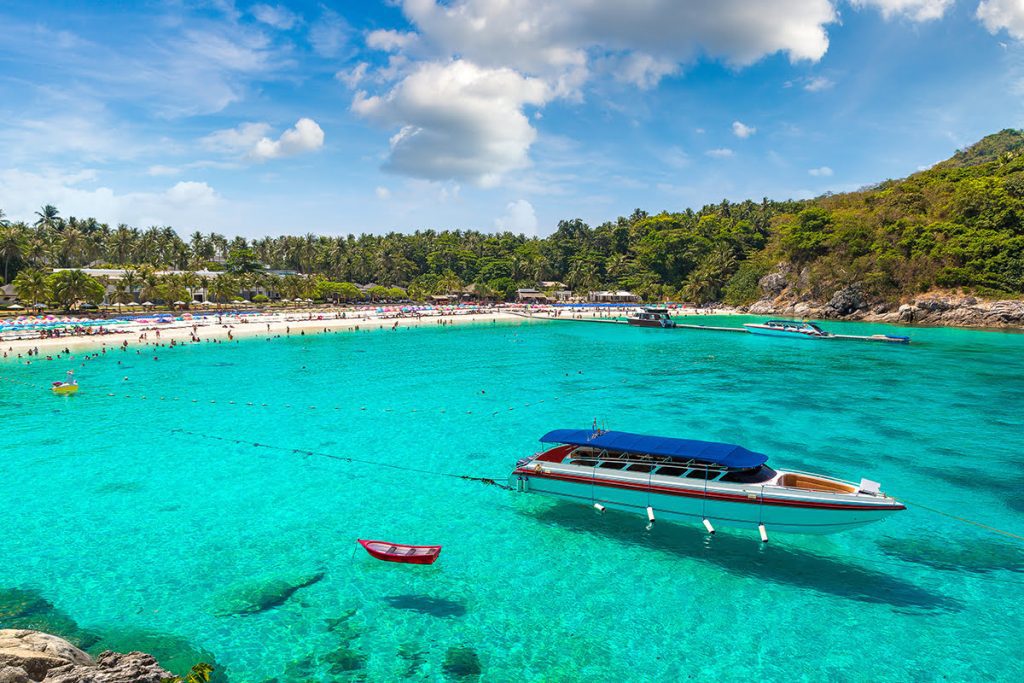 Top 10 Phuket Day Trips: A Quick Overview
Phi Phi Islands: A snorkeler's paradise with pristine waters.
Similan Islands: Dive into the vibrant underwater world.
Phang Nga: Experience limestone karsts and emerald waters.
James Bond Island: Capture the iconic rocky pinnacle.
Elephant Sanctuary: Interact with the majestic elephants.
Khao Sok National Park: Embrace the thrill of the jungle.
Sea Kayaking: Navigate through hidden lagoons and caves.
Big Buddha: Marvel at the towering statue and panoramic views.
Coral Island: Engage in water sports and relax on sandy beaches.
Racha Islands: Explore the clear waters and vibrant marine life.
Conclusion
Phuket, often dubbed as the "Pearl of the Andaman," is a destination that offers more than meets the eye. While its beaches, nightlife, and cultural attractions are well-documented, the treasures that lie just a short trip away remain some of Thailand's best-kept secrets. Each of these day trips from Phuket offers a unique experience, be it the tranquility of the Phi Phi Islands, the adventure of Khao Sok National Park, or the cultural immersion of the Elephant Sanctuary. As you embark on these journeys, you'll discover facets of Thailand that remain untouched by commercial tourism, offering authentic experiences that will stay with you long after you've left its shores. So, as you plan your next trip to Phuket, make sure to set aside