Thailand is a treasure trove for shoppers. Its rich tapestry of ancient traditions seamlessly blends with modern influences, making Thailand shopping a unique and exhilarating experience. From the intricate designs of traditional Thai silk to the latest in high fashion, the country offers a shopping spectrum that's as diverse as its landscape. Every city, every town, and even the smallest of villages have something special to offer to the discerning shopper.
Another fascinating aspect of Thailand shopping is the sheer variety of shopping environments. One moment you could be haggling for a bargain in a lively street market, and the next, you could be browsing luxury brands in a state-of-the-art mall. The juxtaposition of the old and new, traditional and contemporary, gives shopping in Thailand a flavor that's hard to find elsewhere.
Thailand Shopping: What to buy in Thailand?
Firstly, traditional handicrafts, such as silk scarves, handwoven textiles, and intricate wooden carvings, are available at a fraction of the price you'd expect elsewhere. Thai silk, especially, is world-famous for its quality and unique designs, making it a sought-after souvenir.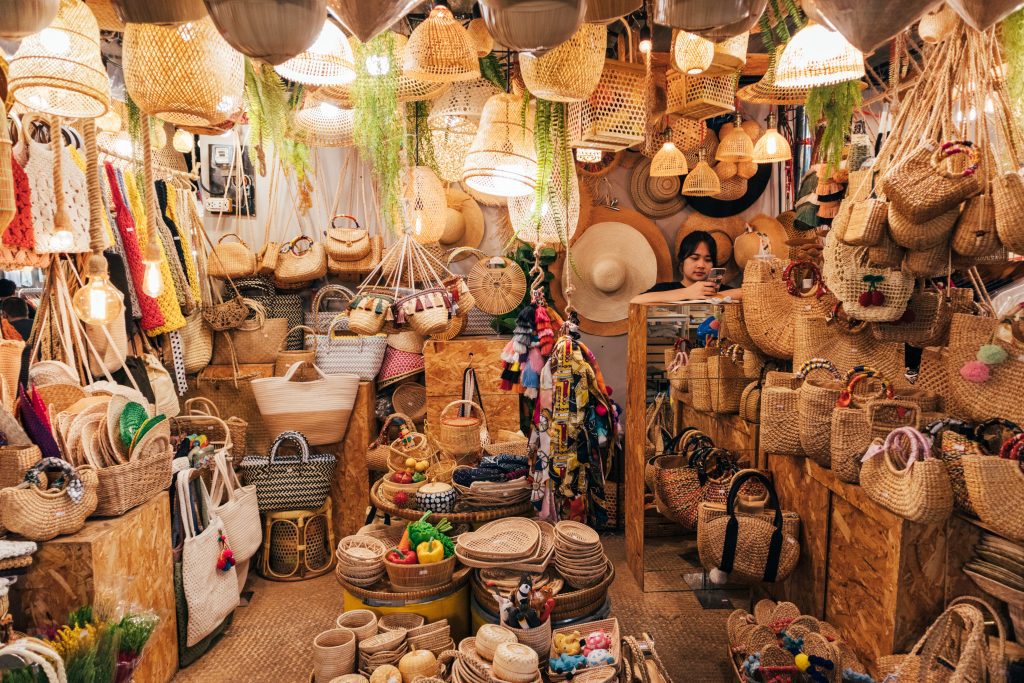 Street markets in cities like Bangkok and Chiang Mai offer a wide range of fashion items, including clothing, shoes, and accessories, often at unbeatable prices. Bargain hunters can find trendy outfits without breaking the bank.
Jewelry, particularly silver and gemstones, is another category where shoppers can find great deals. Cities like Chanthaburi are hubs for precious stones, and visitors can purchase beautiful jewelry at competitive rates.
Lastly, Thailand is a paradise for food lovers. Local spices, dried fruits, and traditional snacks are not only delicious but also incredibly pocket-friendly.
In essence, Thailand shopping provides a unique opportunity to buy high-quality items at affordable prices, making it a must-visit destination for shopaholics and budget travelers alike.
Bangkok Shopping
Bangkok, often referred to as the 'City of Angels', is a metropolis that never sleeps, especially when it comes to shopping. It's also a capital of Thailand shopping. The city seamlessly marries its rich history with the pulsating energy of the modern world, making it a haven for shoppers. From the labyrinthine alleys of age-old markets to the gleaming corridors of contemporary malls, Bangkok offers a shopping experience that is both diverse and exhilarating.
Located in the northern part of Bangkok, Chatuchak Weekend Market, often referred to as JJ Market, is a colossal marketplace that buzzes with life over the weekends. Covering 27 acres, it's divided into 27 sections and houses over 8,000 stalls. Whether you're in search of handcrafted wooden sculptures, vintage vinyl records, or even exotic pets, Chatuchak promises a treasure trove of discoveries. The market is also a gastronomic delight, with stalls offering mouth-watering Thai street food, from spicy papaya salads to sweet mango sticky rice. Navigating through its maze-like alleys, one can't help but get immersed in the vibrant atmosphere, making it an essential Thailand shopping experience.
In the heart of Bangkok's shopping district lies Siam Paragon and CentralWorld, two of the city's most iconic shopping malls. These aren't just shopping destinations; they're landmarks in their own right.
Siam Paragon is the epitome of luxury. Housing some of the world's most renowned high-end brands, it's a place where fashion enthusiasts can find the latest collections from designers like Louis Vuitton, Prada, and Gucci. But that's not all; the mall also boasts Southeast Asia's largest aquarium, SEA LIFE Bangkok Ocean World, and a state-of-the-art cinema complex, Paragon Cineplex.
Adjacent to Siam Paragon is CentralWorld, one of Southeast Asia's largest shopping complexes. It offers a more diverse shopping experience, catering to both luxury seekers and bargain hunters. Apart from its vast selection of brands, CentralWorld is also known for its expansive food courts, offering a range of cuisines from around the world. The mall's outdoor square is a hub for events, from Bangkok's grand New Year celebrations to live concerts.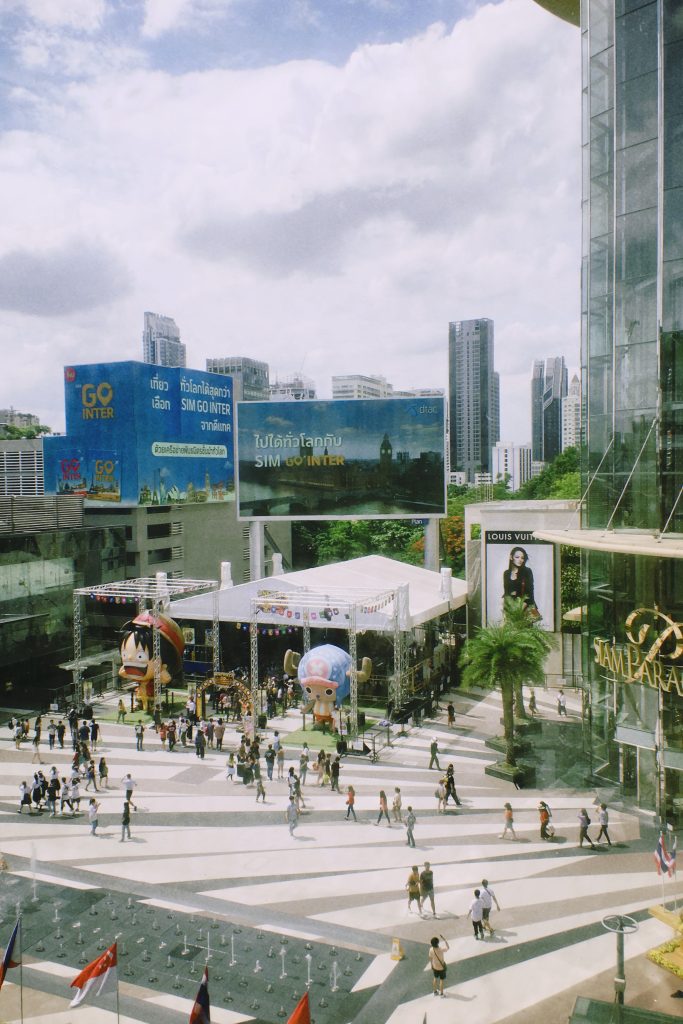 Just a stone's throw away from Siam Paragon is MBK Center, another of Thailand shopping giants. Unlike the former, MBK has a more local feel, making it popular among both tourists and residents. With eight floors and over 2,000 shops, it's a place where you can haggle and get some of the best deals on electronics, fashion, and souvenirs. The mall's top floor houses a cinema and a food court, offering authentic Thai dishes at pocket-friendly prices. MBK is not just a mall; it's a testament to Bangkok's eclectic shopping culture, where the old coexists with the new.
In essence, Bangkok's shopping scene is a microcosm of the city itself – diverse, vibrant, and always evolving. Whether you're a seasoned shopper or a curious explorer, the city promises a shopping adventure that you'll cherish for a lifetime.
Phuket Shopping
Phuket, Thailand's pearl of the Andaman Sea, is renowned for its golden beaches, vibrant nightlife, and rich cultural heritage. But beyond its natural beauty and historical landmarks, Phuket also beckons with a shopping experience that's as varied as its landscape. From the charming streets of its Old Town to the bustling corridors of modern malls, Phuket offers a shopping journey that's both traditional and contemporary.
Phuket Old Town
Nestled in the heart of Phuket, the Old Town is a delightful blend of history and commerce. As you stroll through its narrow lanes, you're transported back in time, with the colorful Sino-Portuguese shophouses narrating tales of a bygone era. These historical buildings, with their intricate designs and vibrant facades, now house a myriad of quaint shops. Here, you can find handcrafted jewelry, bespoke clothing, and unique souvenirs that reflect Phuket's rich cultural tapestry. The Old Town is also a gastronome's delight. Traditional eateries and chic cafes offer a range of local delicacies, from spicy Tom Yum soup to the sweet and flaky Roti. Every corner of the Old Town whispers a story, making shopping here a journey through Phuket's illustrious past.
Contrasting the historical charm of the Old Town is the Jungceylon Shopping Mall, Phuket's ode to modernity. Situated in the bustling area of Patong Beach, Jungceylon is more than just a shopping destination; it's a hub of entertainment and leisure. Spanning over 200,000 square meters, the mall houses a vast array of international brands, catering to fashion enthusiasts, tech geeks, and beauty aficionados alike. But shopping is just one facet of the Jungceylon experience. The mall also boasts a state-of-the-art cinema, a bowling alley, and even a musical fountain show that mesmerizes visitors with its synchronized light and sound display. For those looking to satiate their taste buds, Jungceylon offers a plethora of dining options, from upscale restaurants serving global cuisines to food courts that offer a taste of authentic Thai flavors.
In conclusion, Phuket's shopping scene is a reflection of the island's multifaceted charm. Whether you're a history buff looking to delve into the island's past or a modern shopper seeking the latest trends, Phuket promises a shopping escapade that's both enriching and exhilarating.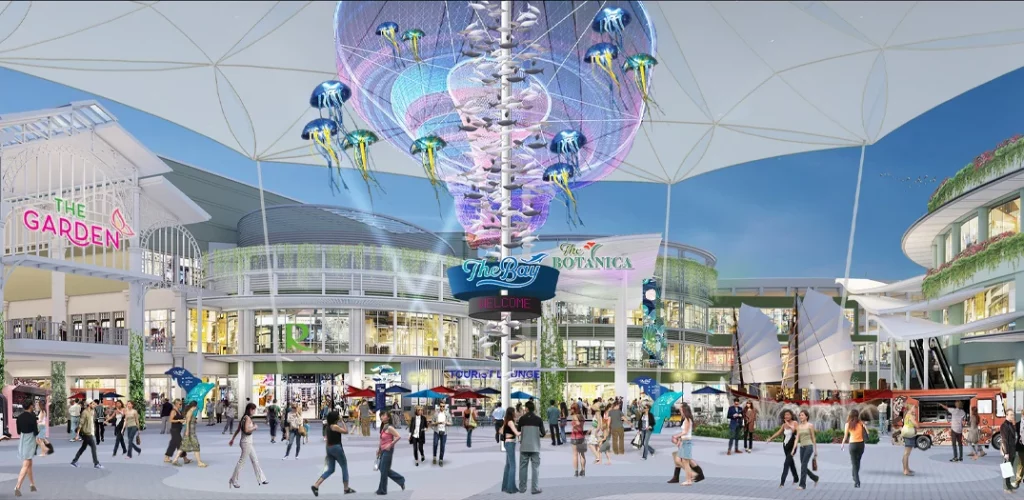 Pattaya Shopping
Pattaya, often dubbed as the 'Riviera of Thailand', is renowned for its sun-kissed beaches, vibrant nightlife, and a plethora of entertainment options. But beyond its reputation as a party hub, Pattaya is also emerging as a shopping mecca. The city's shopping landscape is as varied as its entertainment offerings, ranging from traditional markets that offer a slice of local life to ultra-modern malls that showcase global trends.
Pattaya Floating Market
One of Pattaya's most iconic shopping destinations is the Pattaya Floating Market. Spread over 100,000 square meters, it's aptly termed as the 'Four Regions Floating Market' as it brings together the diverse cultures and products of Thailand's four major regions – North, Northeast, Central, and South. As you glide through its intricate network of waterways on traditional boats, you're greeted by vendors on wooden boats selling a plethora of items. From handcrafted artifacts, colorful textiles, and intricate jewelry to fresh fruits, spices, and local delicacies, the market is a treasure trove of authentic Thai products. The serene ambiance, punctuated by the gentle lapping of water and melodious Thai folk songs, adds to the charm, making the Pattaya Floating Market an experience that's both sensory and soulful.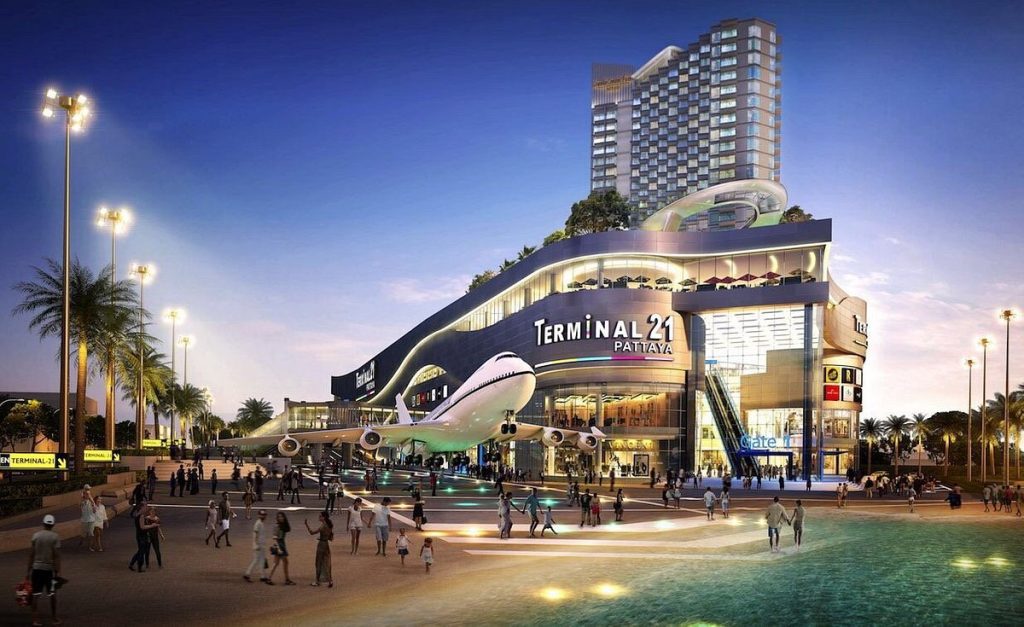 In stark contrast to the traditional vibe of the floating market is Terminal 21 Pattaya, a shopping marvel that takes you on a global journey. As the name suggests, the mall is designed like an airport terminal, with each floor dedicated to a famous city from around the world. From the bustling streets of Tokyo to the romantic boulevards of Paris, shopping at Terminal 21 is like embarking on a world tour. The mall boasts a vast array of brands, both local and international, catering to fashion, electronics, beauty, and more. The dining options are equally diverse, with eateries offering cuisines that match the theme of each floor. Whether you're savoring sushi in 'Tokyo' or enjoying a croissant in 'Paris', Terminal 21 promises a gastronomic journey that complements its shopping adventure.
In essence, Pattaya's shopping scene is a testament to the city's evolving character. While it continues to embrace its roots, as evident in the Pattaya Floating Market, it's also welcoming modern influences, as showcased by Terminal 21. Thailand shopping, especially in cities like Pattaya, is not just about the act of buying; it's about immersing oneself in diverse experiences, understanding the country's rich tapestry, and creating memories that last a lifetime.