Thailand's allure extends beyond its golden temples and mouth-watering cuisine. The country's islands, with their pristine beaches and electrifying nightlife, have become synonymous with unforgettable party experiences. That's why we selected the best Thailand party islands. From iconic full moon parties to beachfront raves, these islands promise nights filled with music, dance, and memories.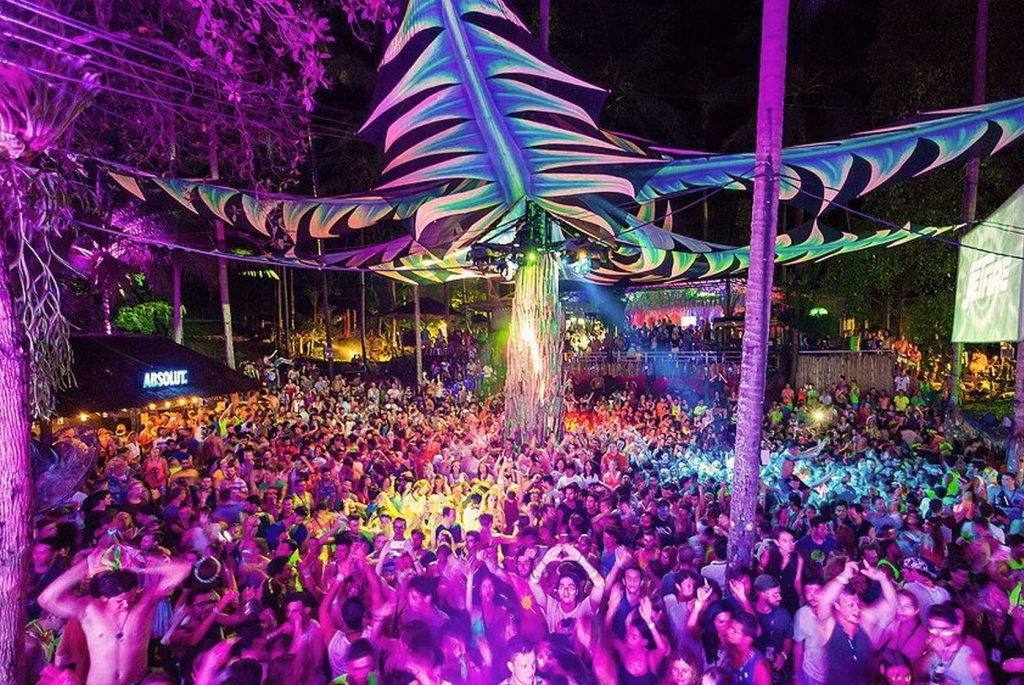 Best Thailand Party Islands for 2023 and 2024
Thailand's stunning selection of islands are home to many of the most vibrant and unique party scenes in the world. From remote beach bars that come alive in the evenings, to vibrant nightclubs that stay going until the early morning, every island in Thailand offers a unique party vibe that guarantees a consistently thrilling nightlife experience. Whether you're looking for a beachfront bonfire or a club night packed with EDM, best Thailand party islands has something for everyone. Even if you stay on the same island for your entire break, you'll be sure to find a different and exciting experience from night to night.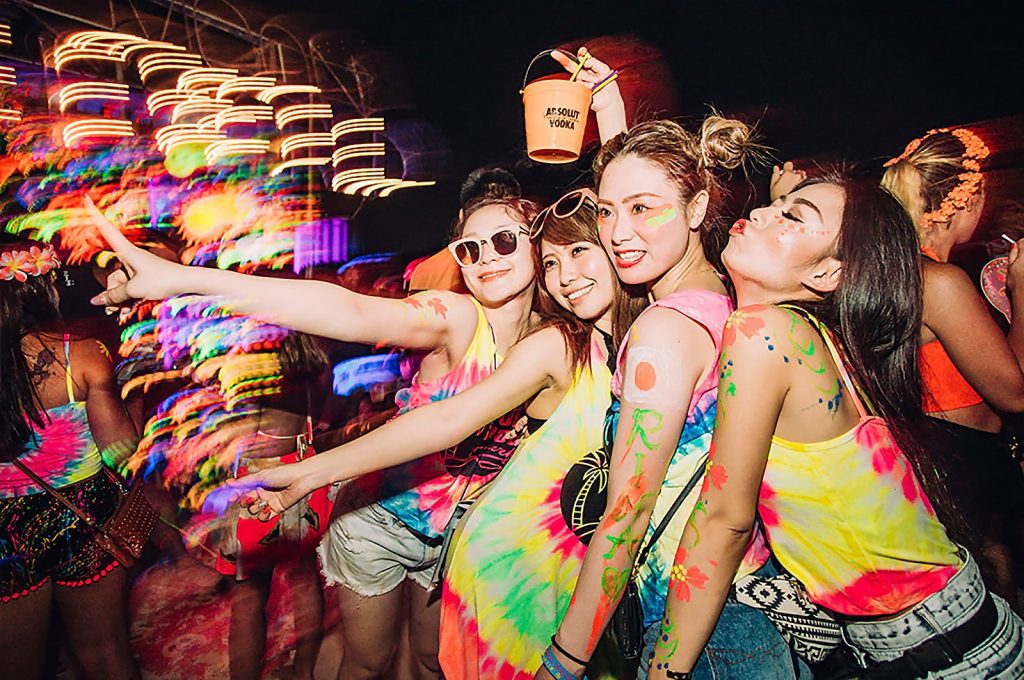 Koh Phangan
Koh Phangan is a small but lively island in Thailand, most famously known as the birthplace of the legendary Full Moon Party. Every month, party-goers from all over the world flock to the sandy shores of Haad Rin Beach to enjoy the sights and sounds of this unique party experience. Beyond the Full Moon Party, however, Koh Phangan is packed with plenty of other beaches, bars, nightclubs, and events – all capturing the vibrant spirit of life on the island. Whether you're looking for an all-night rave or a relaxed atmosphere, Koh Phangan is the perfect destination for anyone looking to let loose and have fun.
Koh Phangan is the perfect place to have a fun night out and it's one of the best Thailand party islands. There are many great party places to choose from on the island, each offering their own unique atmosphere and musical lineup. Haad Rin Beach is the most popular party spot on the island, and the site of the famous Full Moon Party. Here, you can find plenty of dance floors set up around the beach, as well as plenty of bars and restaurants to keep you fueled for the night. Jungle Experience is also a popular spot to party, with a mix of music genres and live bands playing. Loi Lay Floating Bar is another great spot, where you can enjoy drinks and music while floating on the picturesque Haad Yang bay. And lastly, Half Moon Festival is an annual celebration of music and art held around Haad Rin beach every Month. With all these popular party spots, it's no wonder Koh Phangan is considered one of the top party destinations in Southeast Asia.
Best party places on Koh Phangan:
• Haad Rin Beach – Full Moon Party atmosphere with plenty of dance floors and bars/restaurants
• Jungle Experience – Unique mix of music genres with live bands
• Loi Lay Floating Bar – Drinks and music on Haad Yang bay
• Half Moon Festival – Annual celebration of music & art at Haad Rin beach
• Silver Moon – High-end club boasting state-of-the-art sound system and some of the world's leading DJs
• Up & Down Bar – Cricket match screenings, DJ sessions, live bands, beer pong & pool tables
• Boat parties – DJ sets and sunset cruises, day trips to neighboring beaches and parties on exclusive exotic islands
• Waterfall Party – A weekly event featuring international DJs and local live bands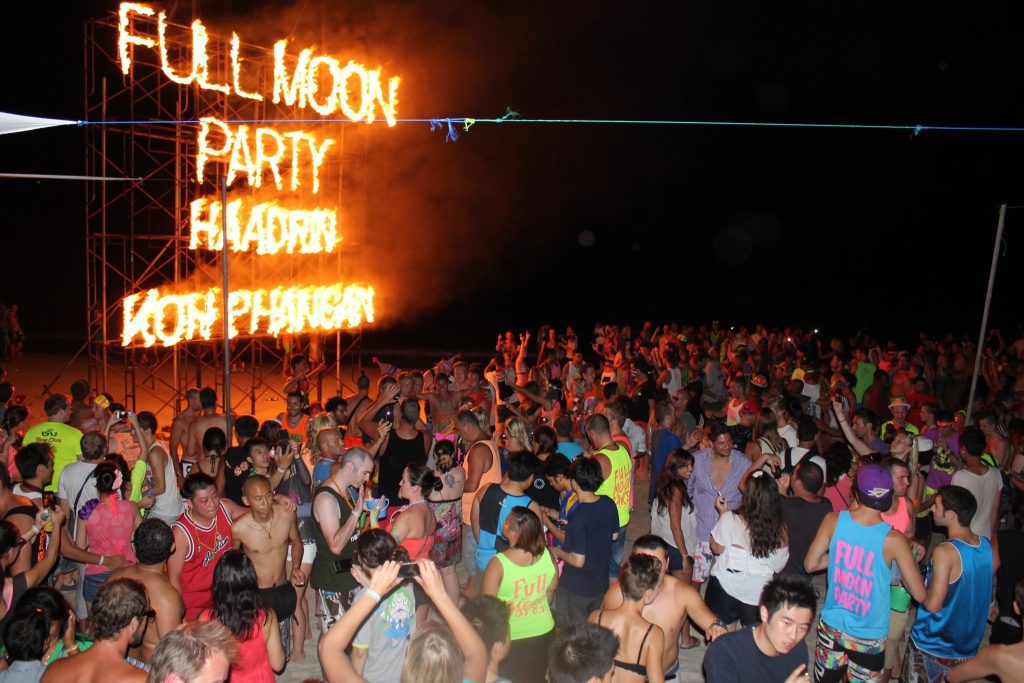 Koh Phi Phi
Koh Phi Phi's allure isn't just its cinematic landscapes; it's also its pulsating nightlife. As night falls, the beaches transform into vibrant party venues, with fire dancers, live music, and DJs setting the mood. The island's narrow lanes are lined with bars and clubs, ensuring the party continues long after the beach events wind down. And it's definitely one of the best Thailand party islands
It's no wonder that the island is home to some of the best party spots around. Slinky Beach Bar is the place to be if you're looking for a fun, laid-back atmosphere with occasional live music and DJs. Plan a few sunset drinks at the Ibiza Beach Club for a nice, relaxed vibe. Alternatively, Banana Rooftop Bar is great for those looking for a louder, more upbeat atmosphere. Last but not least, Reggae Bar is the go-to spot for reggae aficionados with live music, DJs, and plenty of drinks and dancing. With so many great choices, your night of fun on Koh Phi Phi is sure to be a memorable one.
Best party places on Koh Phi Phi:
• Slinky Beach Bar – Live music and DJs with a fun, laid-back atmosphere
• Ibiza Beach Club – Relaxed vibes and sunny drinks
• Banana Rooftop Bar – A louder, more upbeat atmosphere
• Reggae Bar – Music, DJs, drinks and dancing for reggae lovers
• Paradise Beach Club – Delicious food, sun beds and music that will make you want to dance
• Sirena Mia Beach Club – Private swimming pool with a private bar and the best DJs in town
• Ibiza Rocks – A venue for beach musicians and DJs featuring live performances and cooking classes
• Summer Beach Club – Get in the party mood and dance along with live DJs all day long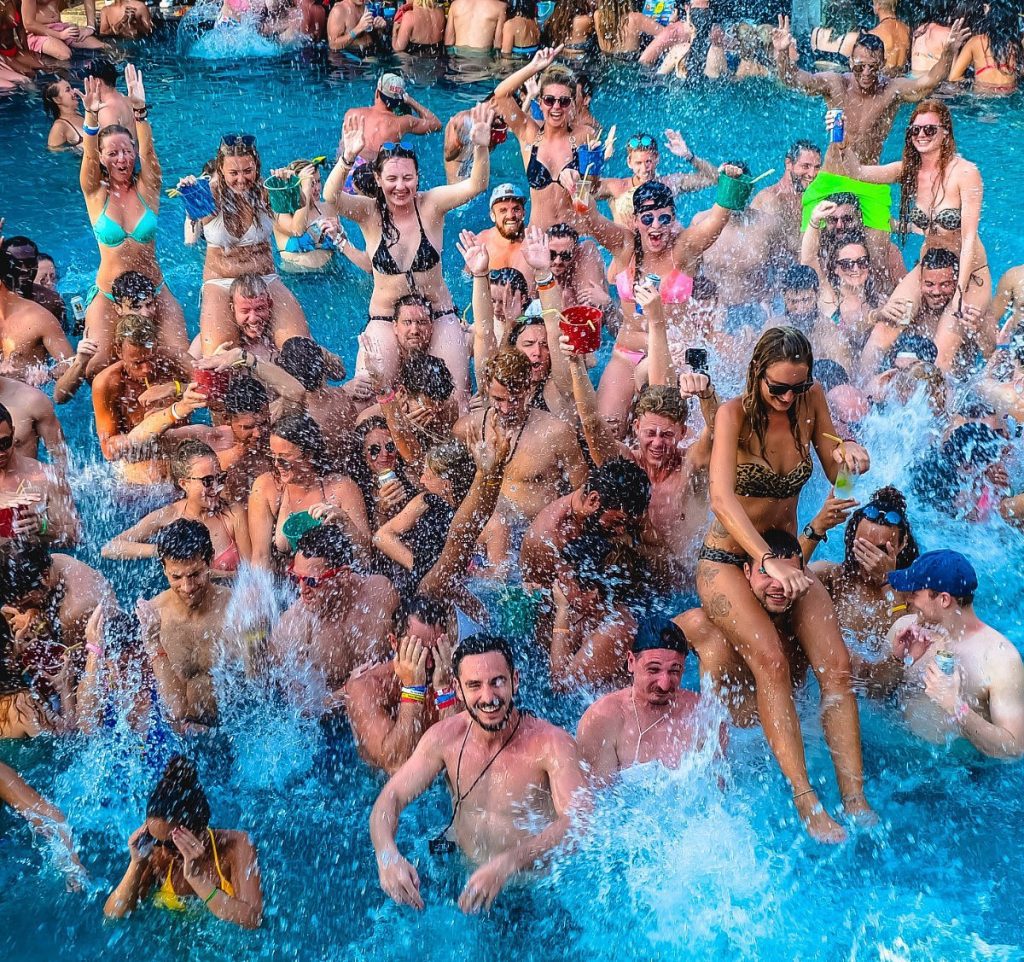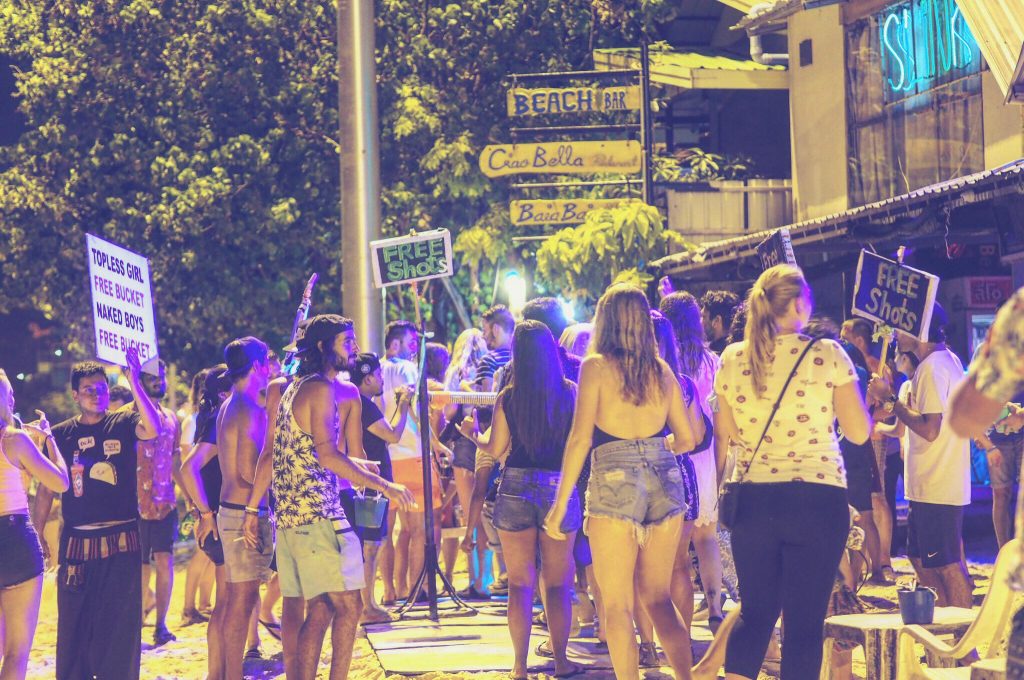 Koh Samui
Koh Samui is the perfect destination to experience the best of both worlds. From having a relaxed beach day to partying the night away in one of Koh Samui's highly acclaimed clubs, this island really does have it all. Chaweng Beach is definitely the place to go for those looking for a lively night out, with its long list of beachfront bars and clubs. From lively beach raves to classy clubbing parties, there's something to suit every taste. Koh Samui truly is the perfect destination for those who seek the perfect balance of laid-back charm and an exciting nightlife scene.
Ark Bar is one of the most well-known beach clubs on Koh Samui, boasting a party-minded vibe and an incredibly energetic atmosphere. The music is usually upbeat and always guaranteed to get you dancing. Green Mango Club, located in the heart of Chaweng, is known for its relaxed atmosphere and equally energetic music. If you're looking for something a little different, the Cha Cha Moon Beach Club is the place to be! This venue offers an array of cocktails and a laid-back atmosphere combined with live DJs and thumping music. Finally, for a more low-key evening, check out Soi Green Mango for its wide selection of bars and eateries.
Best party places on Koh Samui:
• Ark Bar: Well-known beach club with a party-minded vibe and an energetic atmosphere
• Green Mango Club: Relaxed atmosphere and energetic music
• Cha Cha Moon Beach Club: Array of cocktails, laid-back atmosphere, and live DJs
• Soi Green Mango: wide selection of bars and eateries for a more low-key evening
• Arena Beach Club: Outdoor club with a spacious pool and fire shows for a night of fun and entertainment.
• Sundown Beach Club: An outdoor venue with spectacular views of the beach and a large dance floor for partiers.
• Star Beach Club: An upscale venue with a VIP section and private cabanas for VIPs on an exclusive night out.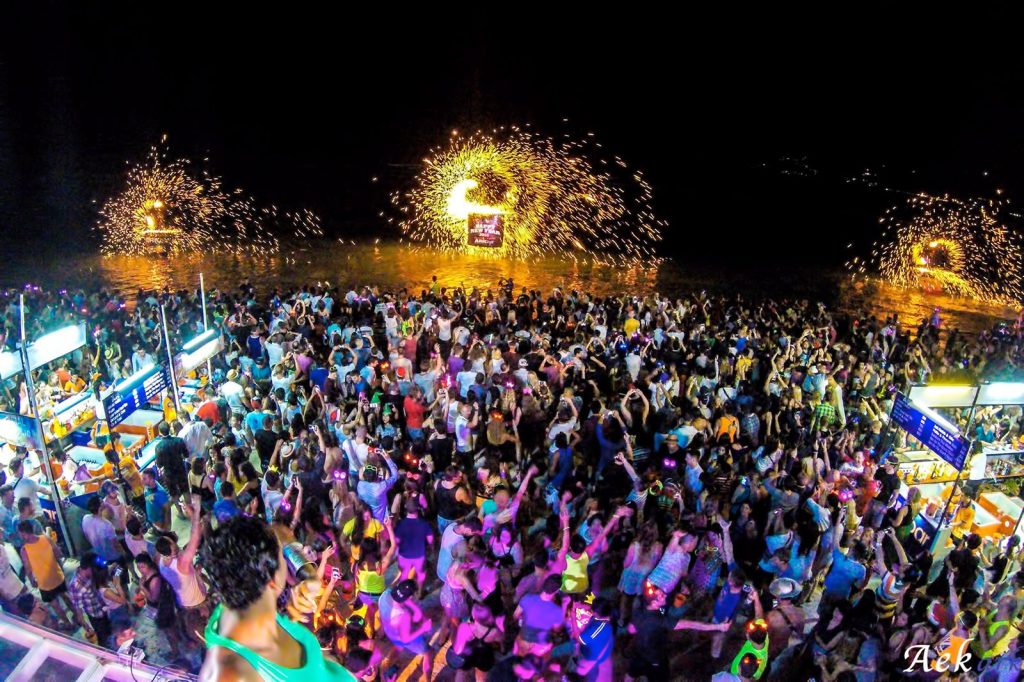 Phuket
Another pearl on our Best Thailand Party Islands list, Phuket, is probably the most famous among travelers and tourists. As Thailand's largest island, it presents a wide array of party experiences. Patong Beach, most famous for its iconic and bustling Bangla Road, is alive with energy, and features everything from neon-lit bars to upscale nightclubs. Beach clubs which are scattered along the island's western coast provide guests with daytime activities that seamlessly transition into vibrant night-time revelries.
Best party places on Phuket include Illuzion Phuket, a luxurious nightclub with the ultimate VIP experience, White Room Nightclub, the perfect spot for nighttime partying with its state-of-the-art sound system and chic decor, Paradise Beach Club, a beachfront venue with a lively atmosphere and delicious Thai food, and Catch Beach Club, an open-air lounge with a relaxing atmosphere. All of these venues offer an unforgettable party experience to make your time in Phuket extra special.
Best party places on Phuket:
• Illuzion Phuket: Luxurious nightclub, ultimate VIP experience
• White Room Nightclub: State-of-the-art sound system, chic decor
• Paradise Beach Club: Beachfront venue, lively atmosphere, delicious Thai food
• Catch Beach Club: Open-air lounge, relaxing atmosphere
• Banana Club: Rooftop-style venue, signature cocktails and international drinks
• Coco Tams: Tropical-style bar, famous for friendly staff
• Seduction Beach Club: Quiet sanctuary surrounded by beautiful gardens
Koh Tao
While Koh Tao is renowned as a diving paradise, its nightlife is equally captivating and it deserves a place on our best Thailand party islands list. Sairee Beach is the heart of the island's party scene, with beach bars, fire shows, and music events that cater to a diverse crowd. The island's laid-back vibe ensures that every party feels intimate and unique.
From beach bars to beach clubs and more, here are some of the top party places on Koh Tao: Lotus Beach Bar. Located right on the beach of Sairee Beach, Lotus Beach Bar offers great drinks, great music, and a great atmosphere. The bar also features a fire show on most nights. Fishbowl Beach Bar. Located on the southwest side of Koh Tao, Fishbowl Beach Bar is a great spot for having a few drinks and watching the sunset. The bar also offers some great food and live music. Maya Beach Club. Spend the day relaxing at one of Koh Tao's top beach clubs. Located on Mae Haad Beach, Maya Beach Club offers poolside loungers, day beds, music, and yes, drinks. Oxy Bar. The quintessential Koh Tao party spot, Oxy Bar is a great place to dance the night away with amazing music and a great atmosphere. With a deck overlooking the ocean and great drinks and food, it's no wonder why Oxy Bar is a must for a night out in Koh Tao.
Best party places on Koh Tao:
• Lotus Beach Bar – Fire show on most nights
• Fishbowl Beach Bar – Watch the sunset with some drinks
• Maya Beach Club – Poolside loungers and day beds
• Oxy Bar – Dance the night away with amazing music and a great atmosphere
• La Playa Beach Bar – Enjoy live DJ performances every night
• 199 Steps Beach Bar – Two levels of beachfront bars to enjoy the stunning views
• The Ibiza Beach Club – Cool off with a dip in the infinity pool
• Cafe del Mar – Enjoy the ambiance of this modern and stylish beach bar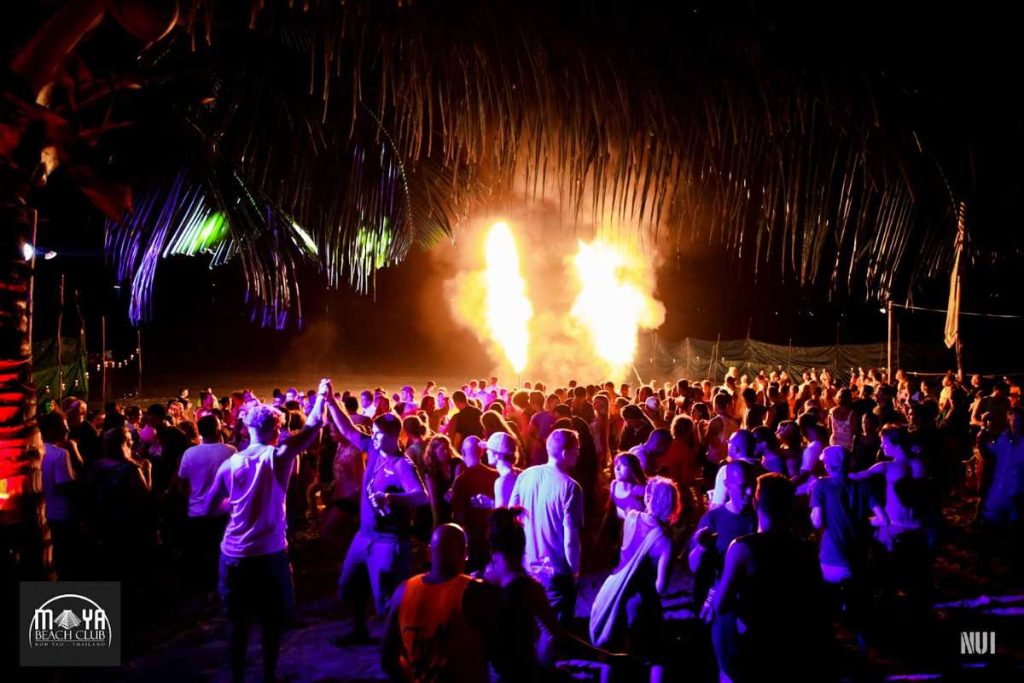 Conclusion
This beautiful country is known for its exotic landscapes, stunning beaches, and delicious food, but best Thailand party islands are a particularly unique testament to its ability to offer diverse experiences. From vibrant full-moon parties on Koh Phangan to luxurious beach clubs in Phuket, Thailand party islands have something to offer any traveler seeking an unforgettable vacation filled with rhythm, laughter, and memories. Chill out by the beach during the day and brace yourself for endless nights of dancing, drinks, and celebration as the moon rises! If you're an adrenaline junky looking for a wild experience, Thailand's party islands promise an unforgettable experience like no other.