The journey from Phuket to Krabi is a popular route for many travelers, given the allure of both destinations. Nestled in the heart of Thailand's Andaman coast, these two locations offer a blend of pristine beaches, vibrant nightlife, and rich cultural experiences. Whether you're a solo traveler, a family on vacation, or a couple on a romantic getaway, there are multiple options available to traverse this route. In this extended guide, we'll delve deeper into the various ways to get from Phuket to Krabi, and also explore detours to other destinations such as Ko Yao Yai, Ko Lanta, and Khao Lak.
From Phuket to Krabi By Road
Travelling by road from Phuket to Krabi is one of the most scenic journeys in Thailand. The route winds through dense tropical forests, past lush green fields and tranquil rivers. Along the way, you can stop to explore temples, a floating market, and caves. When you finally arrive in Krabi, you will be rewarded with stunning views of the emerald green coastline dotted with hundreds of limestone formations.
Options:
Bus: The bus journey provides an economical option for backpackers and budget travelers. With fares ranging from $5 to $10, buses are equipped with basic amenities to ensure a comfortable journey.
Taxi or Private Car: For those prioritizing comfort and time, taxis or private cars are ideal. While the cost is higher, ranging from $50 to $100, the convenience of door-to-door service and the ability to make impromptu stops makes it a preferred choice for many.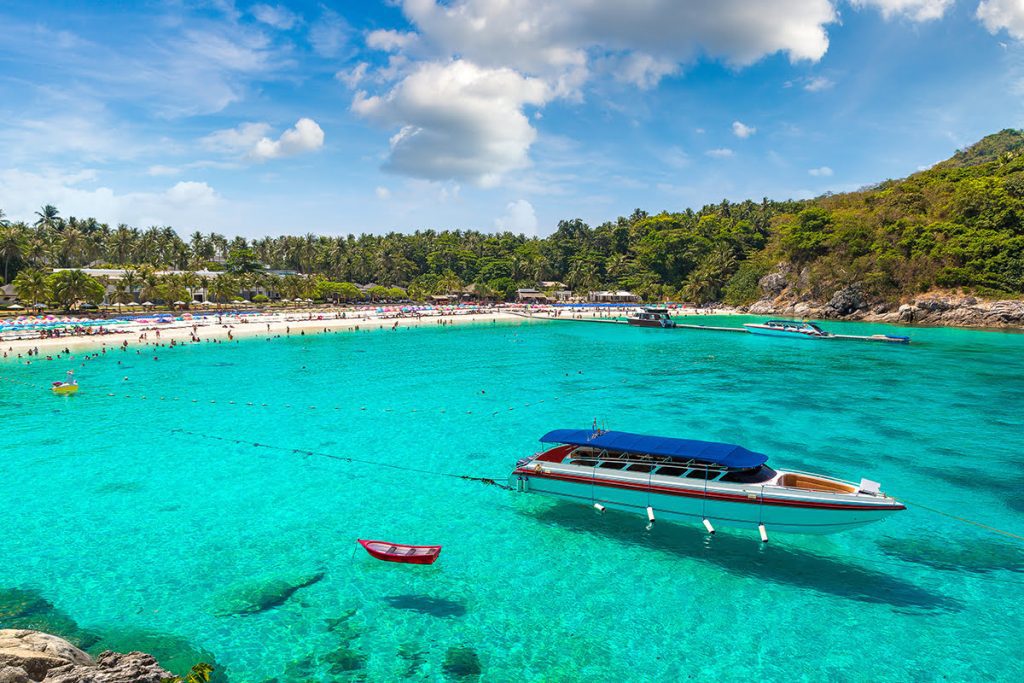 From Phuket to Krabi by boat
Located on the Southern coast of Thailand, Krabi is one of the most beautiful destinations in the country. It is easily accessible from Phuket by taking a boat ride that cuts through the stunningly blue waters of the Andaman Sea. When you arrive, you can explore several lush islands, amazing limestone cliffs, gorgeous beaches, and secret coves. With a wealth of activities like kayaking, snorkeling, scuba diving, and rock climbing, you will be able to spend your time soaking up the beauty of Krabi.
Options:
Ferry: The ferry ride, with its leisurely pace, allows travelers to soak in the panoramic sea views. With fares between $15 to $30, it's a balance of economy and experience.
Speedboat: Adrenaline junkies often opt for the speedboat. Cutting the travel time by half, it's a thrilling way to hop between the two destinations, albeit at a premium price of $50 to $100.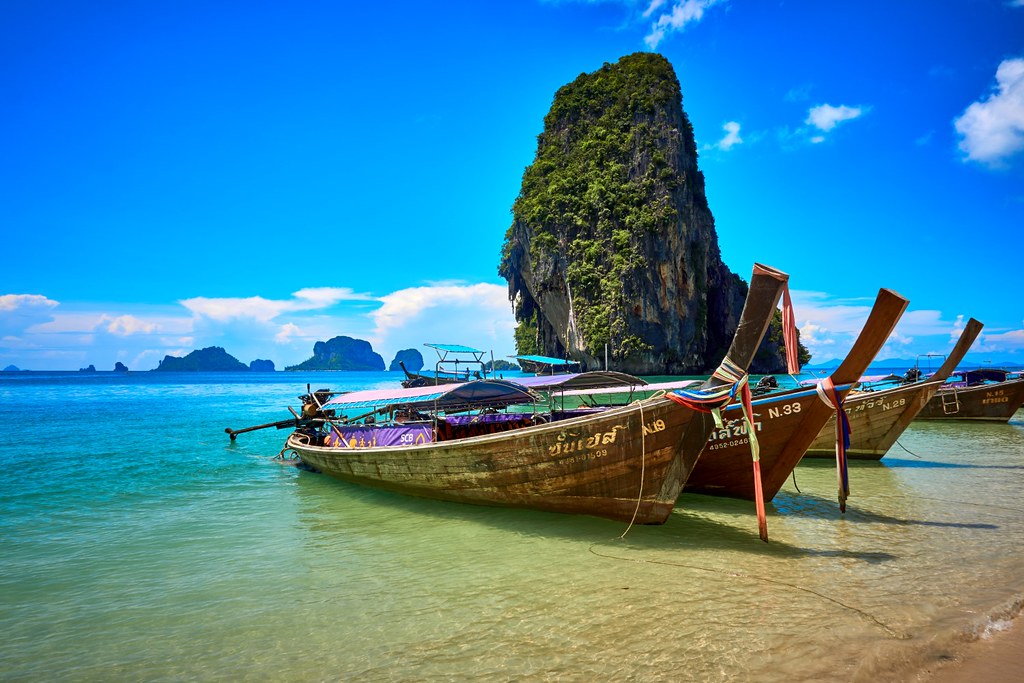 From Phuket to Ko Yao Yai
Ko Yao Yai, located in the Andaman Sea in Thailand, offers travelers a unique chance to experience an untouched paradise. With its pristine white sand beaches, crystal-clear waters, lush tropical jungles, and peaceful atmosphere, it is the perfect destination for those looking for some rest and relaxation. Here, you can find plenty of activities to do, from snorkeling and diving in the coral-filled waters to hiking trails that lead to waterfalls hidden deep in the jungle. Whether you're looking to lie on the beach and enjoy the sun or explore the island's many wonders, Ko Yao Yai has something for everyone.
Ferry: The short ferry ride, costing $10 to $20, is the most popular mode of transport, offering stunning views of the surrounding islands.
Speedboat: For those short on time, the speedboat, priced between $30 to $60, is a swift alternative.
From Phuket to Ko Lanta
Traveling from Phuket to Ko Lanta is an absolute must-do experience for those looking to explore Thailand's marine life and its rich culture. Ko Lanta is a paradise as it offers stunning views of crystal clear water, white sandy beaches, and an abundance of coral reefs filled with an array of colorful fish, sea turtles, and other marine life. The tranquil island is also known for many great diving spots and snorkeling opportunities. For those looking for adventure, Ko Lanta offers a variety of exciting activities such as cave exploration, kayaking, and cliff jumping. Whether it's a quick getaway or a longer retreat, Ko Lanta is sure to offer endless fun for the whole family!
By Boat: The boat journey offers travelers a glimpse of the smaller islands en route. While ferries are priced at $20 to $40, speedboats, offering a quicker option, can go up to $70.
By Road and Ferry: This combination allows travelers to explore the mainland's coastal beauty before hopping onto a ferry to Ko Lanta. The combined cost is around $30 to $60.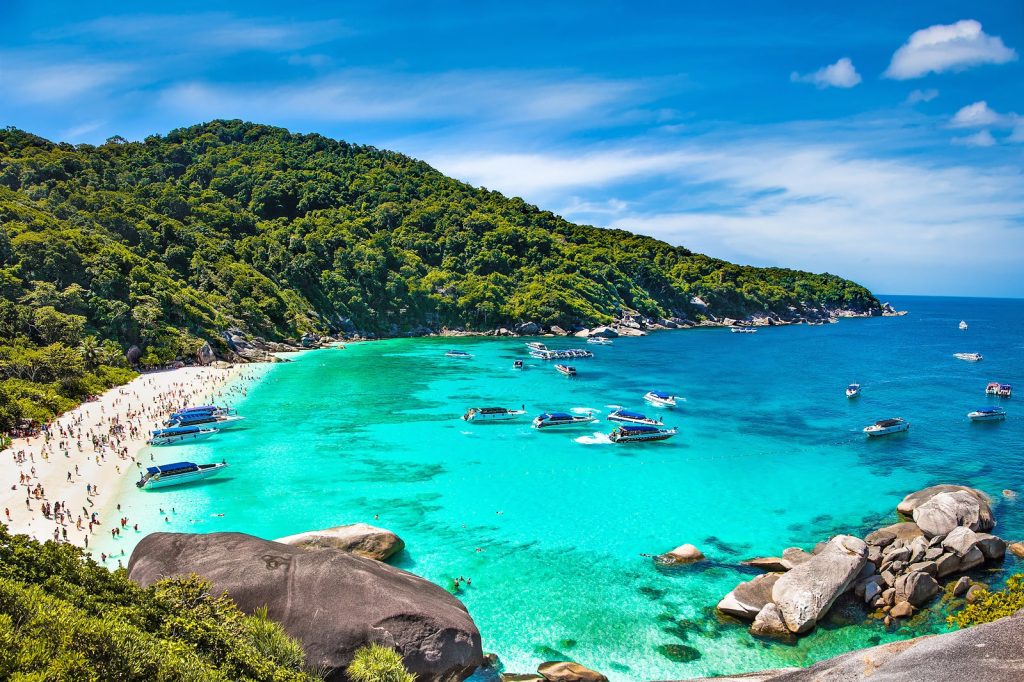 From Phuket to Khao Lak
Traveling from Phuket to Khao Lak, visitors will experience some of the best nature and beaches Southeast Asia has to offer. Khao Lak is a peaceful and tranquil seaside destination, where lush jungle and mountains provide a stunning backdrop for its beautiful white sand beaches. Whether someone is looking to explore the area's unique wildlife, relax in a beachfront hammock, or take in the stunning views, Khao Lak provides the perfect getaway from the hustle and bustle of more touristy locations.
By Road: The smooth roads and scenic views make the journey to Khao Lak a pleasure. Buses are the economical choice at $5 to $10, while taxis offer a more personalized experience at up to $70.
Conclusion
The extended travel guide aims to provide travelers with a holistic view of their journey from Phuket to Krabi and beyond. With a plethora of options available, each mode of transport offers a unique experience, ensuring that the journey becomes an integral part of the adventure. Here's to exploring the beauty and culture of Thailand's Andaman coast! Safe and memorable travels!